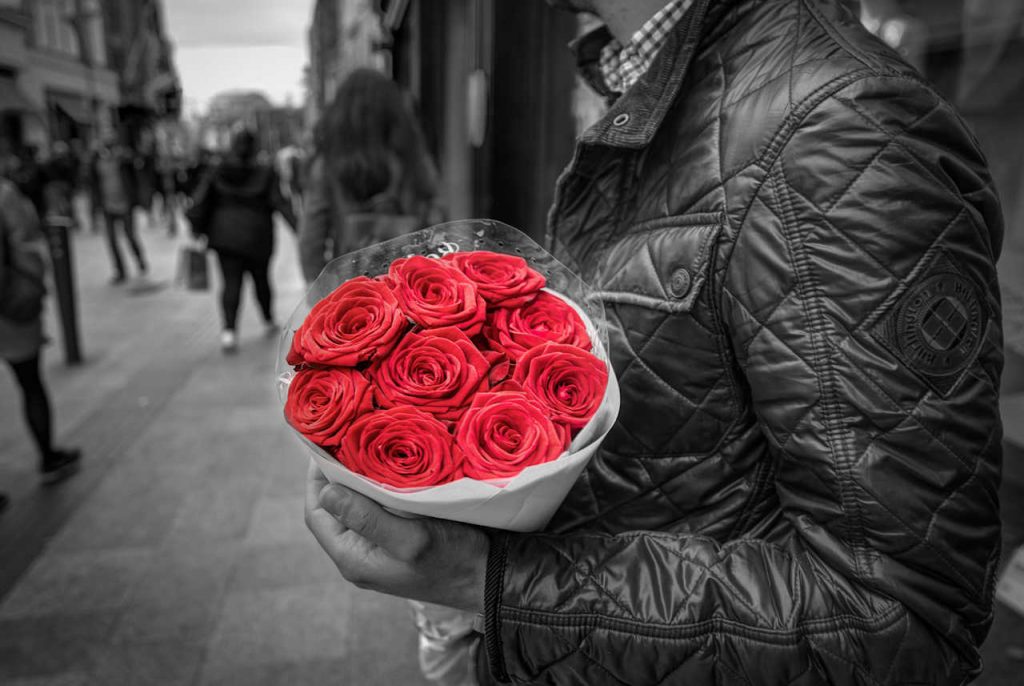 L E C T U R E S 
UPDATE on
once upon a cherita . . .
ai li's lecture at the U3A, Belsize Park, London
on Wednesday 20 March 2019 

once upon a cherita . . . with ai li
on Wednesday 20 March 2019
in Room 2:21 at the U3A Belsize Park
starting at 11.35 am
You are invited to an intimate morning of storytelling
with ai li, wordsmith, word healer and storyteller. She is the
creator of the Cherita, a 6 line poetry genre. The poems, though
minimal in content, will move you with their personal truths
and the deepest of emotions She will take you on
a healing journey through Life, Love and Loss.
a piano
playing
in the soft dark
of early evening
i'm in your
memory now
ai li
In a voice, which has been described as
a compassionate hug, her words will bring prayer to poetry,
and in the after silence, these words echo.
ai li is an internationally published Straits Chinese short form poet. One of her six word haiku has been included
in 'Haiku in English – The First Hundred Years' published by WW Norton & Co which features work by Jack Kerouac, Ezra Pound, Allen Ginsberg, Gary Snyder, Seamus Heaney
and other literary giants.
She is also the author of three books on cherita, twenty five books on Cherita, Tanka and Haiku, the founding editor and
publisher of still, moving into breath and dew-on-line,
and a Fellow of the Royal Photographic Society.
She teaches an ongoing Cherita writing course at U3A in London. www.thecherita.com
This was my A5 flyer which I designed for my U3A lecture
*
I tweaked my original Singapore lecture a little, to better suit a UK audience, and this version too, was very well received.
A bouquet of exquisite fresh exotic dark orchids was in the lecture room when I arrived for my presentation. I was extremely moved by this well-wishing gift. This more than generous gesture was from Maryalicia Post, a fine Cherita writer and poet and loyal contributor to the journal. I would like to thank her again, this time in print, for her kindness and thoughtfulness.
My mother bred prize winning orchids after we all left the nest and I was really moved by Maryalicia's thoughtfulness [who was unaware of my family connection with orchids] which made her gesture the second auspicious moment for me on the day of my lecture. I felt my mother close that morning and also my maternal grandfather and he would have been 119 years old on 20 March 2019. I was offered the date at short notice and I knew I had to accept it for the reason mentioned earlier.
This was my beautiful bouquet of dark orchids from Maryalicia Post which I photographed in my Rousseau-like  dream yard where I write and contemplate. Eleven days on, these orchids are still singing their deep dark shades of red indoors on my dining room table.
My heartfelt and grateful thanks also go out to everyone who attended, especially my London friends, who very kindly took time off from their busy schedules to be with me. I was very touched by their generous support and presence.
We all sat down together and tucked into a delicious lunch at our café after the lecture and had a whale of a time catching up on all our news.
ai li
*
Thank you very much for your talk & poetry readings yesterday. I found them very moving and so did others.
Ken Baldry, London
*
You were only wonderful. It was a very original presentation and very moving. One of the ladies there said she found it very sad and almost cried in one part, so it just shows how with such few lines you can manage to convey so much emotion.
Looking forward to sharing more things with you in the future!
Ruth Corman, London
*
Your talk was so inspiring and I echo some of the audience in saying how restful and healing it felt.
I loved seeing the photographs of your family, learning about the history and I really enjoyed listening to you recite your Cherita.
Thank you for asking me to come.
Nicole Tinero, London
*
We enjoyed your talk very much, especially for Amy who has not seen photos like the ones you presented for some time (though I dare say she may have some old ones tucked away somewhere, ne'er to be found!).
Many thanks once again for inviting us to U3A.
Shirly Ling, London
*
Many of your Cherita and the way you presented them, the 3 themes, plus combining with origins, family heritage, visuals are resonating with me …… you did well. I understand it's not easy to do what you did.
Alan Cousins, London
*
Wishing you well with your lecture, and wishing you a good audience. x 
Larry Kimmel, USA
*
. . . I would have loved to have been there myself..
It's especially happy news that the talk went well 'and all the chairs taken'.
You can enjoy a deep breath and a bit of a rest now.. Well done!
I can well imagine the feedback is heartwarming… Your ancestors and I would expect nothing less..
Maryalicia Post, Ireland
*
Hope your lecture went well today, very nicely timed to coincide with the vernal equinox.
I would like to have been able to attend, but it's a little too far for a day trip, instead I have bought a kindle version of night rain to console myself.
Robert Horrobin, Scotland
*
. . . just wanted to send you a quick note to say I'm thinking of you & hope all is well etc…
Caroline Skanne, Kent
*
ai li's  once upon a cherita . . . lecture
at the Peranakan Museum, Singapore
on Monday 7 January 2019
one of the many cherita i shared with the museum audience :
autumn
the tea pavilion
now deserted
steam from osmanthus buds
my embroidered sleeve
older than this century
ai li
update 30 november 2019 – I have just added my original blurb for the Peranakan Museum because all their links have been disabled except for their homepage due to their renovations. Please click on the image below to read the blurb I wrote and designed for my lecture:
The two Peranakan Museum links below unfortunately have been disabled by the Museum whilst it is undergoing its makeover :
https://www.peranakanmuseum.org.sg/whats-on/lectures/7jan2019_aili
For those of you who would like to see a photograph of the Peranakan Museum that does the Museum more justice than my hurried snapshot, taken on  a very hot day, here is a current link to its home page which shows the building as its best and in its full glory.
https://www.peranakanmuseum.org.sg/
The Museum has now closed for its makeover. I feel blessed that I was able to give my lecture in the Ixora Room in January of this year.
Facade of the Peranakan Museum, Singapore taken by me on 5 January 2019 – two days before my lecture.
The Peranakan Museum is the major museum for the Straits Chinese, and not only does it explore the art and culture of Straits Chinese communities in South East Asia, but it houses one of the finest & most comprehensive public collections of Peranakan objects. Peranakan simply means 'local born' in Malay. The Peranakan Chinese are the offspring & descendants of traders from the southern ports of china such as Amoy [now Xiamen], who then settled & made their homes in the Dutch East Indies [now Indonesia] & the Straits Settlements of Malacca, Penang and Singapore. As early as the 14th century, these foreign traders married local women, likely to have been of Javanese, Balinese or Batak origin.
I am Straits Chinese or Peranakan as we call ourselves, from my mother's side of the family and I was hugely honoured by the invitation for me to give a presentation at this prestigious museum where a large number of my late mother's personal collection of fine kebayas, sarongs, and related accessories have found a permanent home.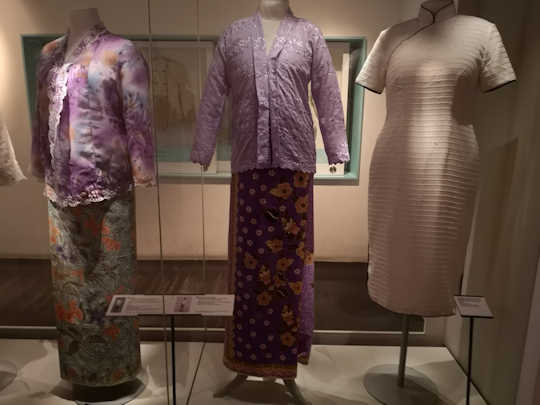 One set of my mother's large collection of sarong and kebaya displayed in the museum's glass cabinet, two mannequins down from the off-white cheongsam or qipao of Kwa Geok Choo,  the wife of Lee Kuan Yew, the first Prime Minister of Singapore and the mother of Lee Hsien Loong, the third and current Prime Minister. This photograph was taken by me on 5 January 2019, two days before my lecture. 
*
Thank you for a beautiful and spiritual evening at the Peranakan Museum. You transformed the Ixora at the start of 2019 with soft but powerful words, inviting reflections beyond Peranakan culture on Life, Love, Loss and Renewal. The pace and pairing of the images with the poems were touchingly evocative.
Jackie Yoong, Curator, Peranakan Museum, Singapore
*
I would like to thank you for the inspiring session last Monday at the Peranakan Museum.
Denisonde Simbol, Events Organiser, Peranakan Museum, Singapore
*
I just wanted to write to thank you again for your reading at The Peranakan Museum. I hadn't heard of the Cherita before but after your talk, it seemed to me that it is so clear and necessary for this form to exist (I feel it is especially beautiful when used to express the nuances of the archipelagic thought.)
Amrit Dhillon, Singapore and UK
*
Glad to hear it. Cherita is regularly in the submissions for ATPO. You've created a form with staying power.
M Kei, USA
*
Close to the time of your talk at the Peranakan Museum, i have been thinking of you in the recent days and now. I hope it has been a heartwarming emotionally deep and satisfying time for you! . . . Sending love and cherita joy to you from afar. Wish I could be there in person. My heart is with you, and hopefully we can meet in person in UK this year.
Kathabela Wilson, USA
*
Wow! Another masterpiece! Congratulations! Thank You Miss Ai Li. Like your amazing simple English language poetry talk at recent Peranakan Museum in Singapore. It was very very arty to understand with feelings. It reminded me of my belated English literature teacher, Mr Dudley DeSouza who once taught me on poetry during my secondary school days that I miss dearly.
Also miss my Spanish, General Manager, Mr Lionel De Rosario who writes with wonderful Oxford Engish(like you) during his suffering in ww2 during the 🇯🇵 3-1/2 years Occupation in Singapore and the Prisoner of War in building the Thailand railway bridge over River Kwai.
Keep up your wonderful works. It's really Extra Excellence Work on Poetry Art.
Anderson Teo, Singapore
*
It was a pleasure to hear you at the PM. What a great introduction to your writing and it made me travel far in my head ! I loved being introduced to your family.
I will go back to the museum with interested eyes !
Charlotte Thesiger, Singapore
*
Congratulations!!! Of course I knew you would bring the roof down . . . I hope you're having a fab time . . .
Caroline Skanne, UK
*
. . . I enjoyed the reading very much. I love all the old pictures. Your reading voice was soothing and very calming.
Irene Cheng, Singapore
*
Marvelous, ai li. Been thinking about you.
Larry Kimmel, Godfather of Cherita, USA
*
. . . you must be relieved it is over and that it went so well. What a wonderful start to 2019.
Robert Horrobin, UK

*
That's good news, ai li, and doesn't surprise me. Enjoy your visit to Singapore in the days to come.
Michael McClintock, USA
*
Wow, congratulations, my dear ai li!
Of course I had absolutely no doubt that you'd shine! I wish I could've been there to soak up the energy you would've created.
Samantha Sirimanne Hyde, Australia
*
Oh, I am so happy (and not surprised at all) to hear this wonderful news, my friend! You are an inspiration, and you deserve every success that comes your way.
Debbie Strange, Canada
*
So happy to meet you, but the timing was too short and no time to talk.
 . . . your presentation was perfect and the audience appreciated your knowledge and experience as a professional of Cherita and more in the History of your family.
You are a perfectionist !
Anne-France Salmon Stevenson, USA
*
wish u could come to the usa and do it.
stanford forrester, usa
*
I hope all went well and no doubt your pleased to be safely back in Blighty.
Alan Cousins, UK
*
I have missed you and know that your presentation went amazingly well.
Daniela Becher, UK
*
 

Absolutely lovely Ai Li, to read your account of your Singapore visit.
Keep it up.
love,
kala ramesh, india
*
It has been a great pleasure to read your email. Anthropological journey of man is indeed fascinating. I am glad to know that you are sharing your PowerPoint presentations. I shall love to read to fine tune the new genre. Presently I am writing an article on Gandhi for an Indo- USA Book Project.
Pravat Padhy Kumar. India
*
And lovely to read in greater detail about your lecture in Singapore…and to know you are giving it in March in London.. where I'm sure it will be equally well received.
Maryalicia Post, Ireland
*
copyright © the cherita 2023